{VIDEO} Lentil Tacos with Avocado Cilantro Sauce

Avocado, Yellow Rice, and Roasted Chickpea Burrito

Baked Sweet Potatoes with Black Beans and Guac

Black Bean and Summer Squash Enchiladas
Black Bean Tacos with Avocado Cilantro-Lime Sauce

Black Bean and Potato Nacho Plate  This is the meal to make when you have no idea what to make.

Black Bean Fajitas & Guacamole

Black Bean and Summer Squash Enchiladas

Black Bean Lentil Tacos

Breakfast Enchiladas With Poblano Cream

Buffalo Chickpea Nachos

Burritos with Spanish Rice and Black Beans

Burrito Bowl with Creamy Chipotle Sauce

Chickpea Burritos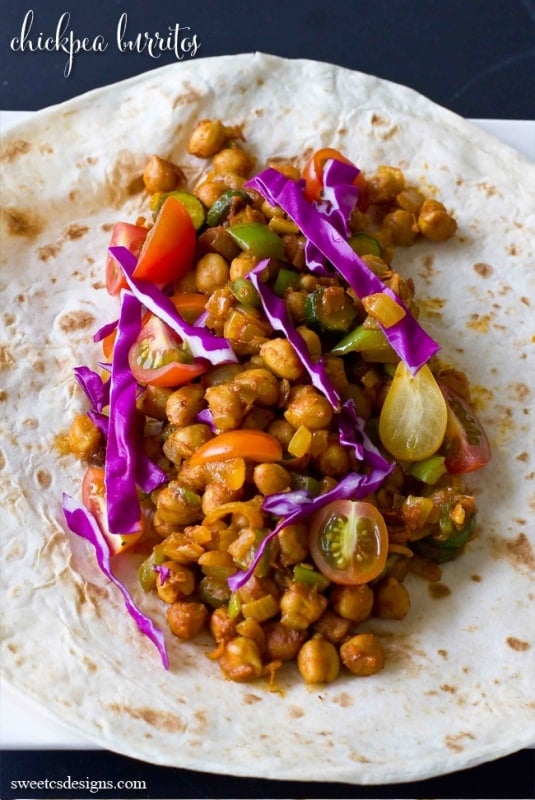 Corn and Black Bean Fajitas

Chorizo-Spiced Potato Enchiladas

Cilantro Lime Rice

Double Decker Chickpea Tacos

Green Chile Enchilada Quesadillas

Guacamole with Toasted Pepitas & Chipotle Sauce

Loaded Veggie & Black Bean Quesadillas

Portobello Fajitas

Protein Monster Vegan Enchiladas

QUINOA BURRITO BOWLS WITH FAJITA VEGGIES

Roasted Veggie Enchilada Casserole

Smoky Tempeh Burrito Bowls

Sweet Potato & Black Bean Quesadillas

Sweet Potato and Green Rice Burrito Bowls

Vegan Taco "Beef"

White Bean Spinach Enchiladas with Avocado Cilantro Sauce

Cauliflower Rice and Pinto Bean Vegan Burrito Bowl

Chipotle Refried Beans, Pico De Gallo, Lime crema on Wheat Sorghum Crust. Vegan Mexican Pizza
Guacamole with red and green chillies recipe

Guacamole with Tomatoes recipe

Holy Guacamole!

Hummus Quesadillas!

Jicama Burgers With Cumin, Coriander, Dill, and Lemon

Kale, Black Bean and Avocado Burrito Bowl

Loaded Mexican Sweet Potato Skins

Loaded Veggie Nachos Recipe with Portabella Mushroom Meat

Loubia B'Zeit: Mediterranean Green Beans With Tomatoes

Low Carb Vegan Mexican Cauliflower Rice

Mediterranean Couscous in Red Pepper Sauce

Mediterranean Roasted Sweet Potato & Farro Salad

Mediterranean Stuffed Sweet Potato Boats

Mexican Elotes Bisque With Lime Crema

Mexican Fiesta Cauliflower Rice

Mexican Hot Chocolate & Crumpets

Mexican Lasagna (or Enchilada Casserole)

Mexican Mac Burrito with Red Sauce

Mexican Pulled Jackfruit Tacos

Mexican Quinoa Stuffed Peppers

Mexican Sweet Potato Bowl with Cashew-Lime Cream

Mexican Quinoa-Stuffed Bell Peppers

Mexican Wedges with Vegan Nacho Cheese Sauce and Sour Cream

Mexican(ish) Kale & Quinoa Salad Recipe

Moroccan Potato Lentil Tacos With Harissa

Morrocan flatbread with salad and ras el hanout

Orange Glazed Tempeh Tacos Asian fusion tacos filled with red cabbage, spring onions, cucumber and a glazed pan fried tempeh, made of marmalade, soy sauce, chinese 5 spice, ginger, garlic and sesame seeds. These tacos are sticky, sweet, fragrant and super delicious – a cross between a taco and an Asian duck pancake in flavour.

Parsnip Mushroom Tacos With Coriander Crema

Portobello Butternut Squash Tacos These tacos are insane. Spicy, saucy, hearty, and utterly delicious. This is a must try!

Roasted Butternut Squash Tacos

Roasted Sweet Potato and Bean Quesadillas

Smoky Black Bean Wraps with Parsley Chimichurri, Spinach

Spicy Roasted Potato Burrito Bowl

Spicy Tofu Vegan Enchiladas

Sweet Corn and Black Bean Tacos

Sweet Potato & Black Bean Quesadillas

Sweet Potato & Black Bean Tacos

Sweet Potato Bites With Guacamole and Cauliflower

Sweet Potato & Corn Enchiladas with Mole Sauce

Taco: Southwest Smoky Rolled Tacos

Tex Mex Spaghetti Squash with Black Bean Guacamole

Tex-Mex Twice Baked Potato Skins

The Ultimate Vegan Protein Burrito

Ultimate Green Taco Wraps with Lentil-Walnut Taco Meat

Vegan Beer Battered Mushroom Tacos with Creamy Horseradish Sauce

Vegan Chipotle Stuffed Sweet Potatoes

Vegan Enchiladas with Cilantro Avocado Cream Sauce

Vegan Enchiladas with Kale & Mushrooms

Vegan Fajitas and a Valentine's Day Gone Wrong

Vegan Nachos for all! Cinco de Mayo Recipe
Vegan Nachos Recipe with Cashew Cheese

Vegan Roasted Plantain Burrito

Vegan Spaghetti Squash Black Bean Mexican Bowl

Vegan Sweet Potato Quesadillas

Vegan Sweet Potato Tacos With Pecan And Lime Cream